PD: Sorry for the grammar mistakes ;P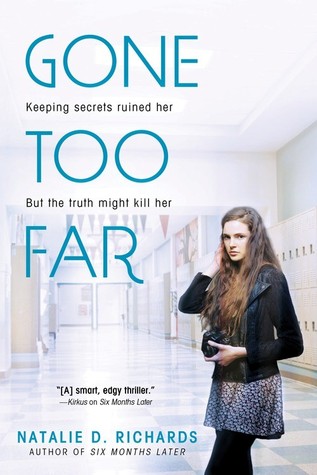 Gone Too Far
by Natalie D. Richards
Publisher: Sourcebooks Fire
Release Date: January 6th 2015
Keeping secrets ruined her life. But the truth might just kill her.
Piper Woods can't wait for the purgatory of senior year to end. She skirts the fringes of high school like a pro until the morning she finds a notebook with mutilated photographs and a list of student sins. She's sure the book is too gruesome to be true, until pretty, popular Stella dies after a sex-tape goes viral. Everyone's sure it's suicide, but Piper remembers Stella's name from the book and begins to suspect something much worse.
Drowning in secrets she doesn't want to keep, Piper's fears are confirmed when she receives an anonymous text message daring her to make things right. All she needs to do is choose a name, the name of someone who deserves to be punished...
NATALIE D. RICHARDS
At seven, Natalie D. Richards wrote about Barbara Frances Bizzlefishes (who wouldn't dare do the dishes.) Now she writes about awesome girls, broody boys, and all things dark and creepy. Natalie lives in Ohio (Go Bucks!) with her techno-wiz husband, three amazing kids, and a seventy pound dust-mop who swears he's the family dog. Her psychological thriller, Six Months Later, will be released in October 1, 2013 by Sourcebooks Fire. Until then, you'll probably find her writing her next book or trying to wade through the towers of dog-eared paperbacks that have taken over her bedroom.
REVIEW
I´d read Six months later from this author, and I really enjoyed it, so when I heard about this book, I knew I had to read it. And I don´t regret my decision ;)
Natalie´s writing is fluid and it catches you easily. You find yourself caught in the story until the end. The same happened to me with the first book, and I´m sure that it will happen with the next books XD
The character are nice, and really cool. Piper was an unusual character, who loves photography, and wants to do something great. Sometimes she sticked her nose into other people's business, for example, who replies the strange message from an unknown number?? But, apart from this, I really liked her, and I think that she has become a better person at the end of her little adventure.
I had liked the other characters, as well, but I have something to say. In general, all the characters were great, they were well defined, and no one was absolutely good or bad. All except Nick. I think that he is too good, too perfect for a book who is trying to show that nothing is totally wrong or good. Don´t misunderstand me, I´d loved the guy, and I think that Piper and he make a really cute coupe, but seeing the other characters, I think that he is too good to be true. I would have liked to see a little fault, a secret, something that made him less perfect.
The plot was really interesting. Sometimes, it made me think of Pretty Little Liars, with all the messages and revenge XD
Some shocking secrets are reveled, and I had liked the end. I think that the book was too short, to be honest XD
But, I had a complaint. I think that the scene where Piper discovers who is sending her the messages was a little too light. After all the questions, all the fear, that scenen should have been more dramatic, more stifling. That scenen leave me a little cold...
But relax, after that scene another happens, and OMG! That scene was stressful XD
Suming up, I have liked the book, a lot, and I think that you´ll enjoy it if you want something light and with a mysterius plot. Give it a try ;)
You can´t pick through the pieces. You have to look at the whole picture to see anything.
4/5
If you click on the image, you´ll go to the calendar of the Blog Tour. Visit it so you can see other reviews:
GIVEAWAY
Details: Win (1) finished copy of Gone Too Far, a copy of Six Months Later and some swag (US Only)
Now, go and read this book! You won´t regret it!